Help for Abbas Abad Wanderer chinkaras
February 11, 2022

Updated in 11 February 2022
In line with its social responsibilities, Tour in Persia has supported the "Abbas Abad Wanderer chinkaras" project by the Nazr-e-Tabiat Association.
Abbas Abad Wildlife Sanctuary in Isfahan province with an area of more than 305433 hectares is located 90 km northeast of Nain city. Geographically, it is located in Nain city and part of it is in the new city of Khor and Biabank, and the management of this region is the responsibility of the environmental protection department of Nain city.
This region consists of interconnected plains and mountain ranges that provide pristine and untouched habitat in the heart of the desert for a variety of plant and animal species.
So far, 43 species of mammals, 75 species of native birds, 42 species of reptiles and a wide range of migratory birds have been identified in this area.
This region is one of the richest and most valuable collections of cats and dogs in the country, of the current eight cats in the country, 6 species (leopard, cheetah, sand cat, wildcat, caracal, palace cat) and six species of dogs and 5 species (wolf, jackal, king fox, sand fox and common fox) live in this region.
Abbasabad Wildlife Sanctuary and adjacent habitats are very prominent in terms of the existence of reproductive populations and the whole season of Huber.
Numerous other species of animals are also seen in the area, the most important of these are chinkara, deer, rams, and goats, which due to the presence of valuable cats in this area, the protection of herbivorous population to provide their prey seems more necessary.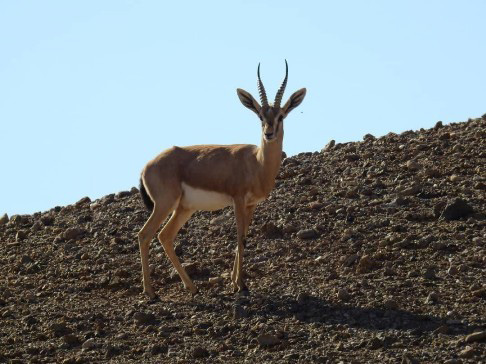 Due to the successive drought of the last two years and the drying of shrubs, including Shur va Qalam, unfortunately, we are witnessing the migration of chinkaras from inside the shelter to other insecure areas. At the suggestion of the rangers and the approval of the Nazr-e-Tabiat faculty, it was decided to send four tons of fodder to the area to be distributed in safe places and to prevent the migration of the chinkaras.
Click to rate this post. The left is the lowest score and the right is the highest score.