Saholan Cave is a cave with water
April 18, 2022

Updated in 18 April 2022
Introduction
Saholan Cave is a cave with water, which is the second largest water cave in Iran.
Perhaps the question arises in your mind what does Saholan mean? This name is due to the weather and the appearance that you see in this place, which is due to the cold. In fact, Saholan is called ice.
You will need about three hours to explore all parts of the cave, which will be a relatively long time, so try to avoid rushing to see the cave.
In terms of height, this cave is among the very tall caves that may reach a height of about 50 meters. The water depth of this cave is about 20 meters.
In appearance, you may see this cave similar to other caves in Iran because the same large chandeliers can be seen in this cave.
In water caves, you have to visit the cave using tools such as boats, life jackets and so on. For this purpose, traffic in this cave will not be possible for you without these devices. Rowing boats are placed in the areas where water can be seen so that people can use them.
The water that you see in the parts of Saholan Cave is water that looks clear.
When you enter Saholan Cave, one of the things that can attract you is the pigeons' nests. These pigeon nests can be seen in large numbers due to the weather conditions in this space, which of course may be referred to as Kone Kootar in the local language.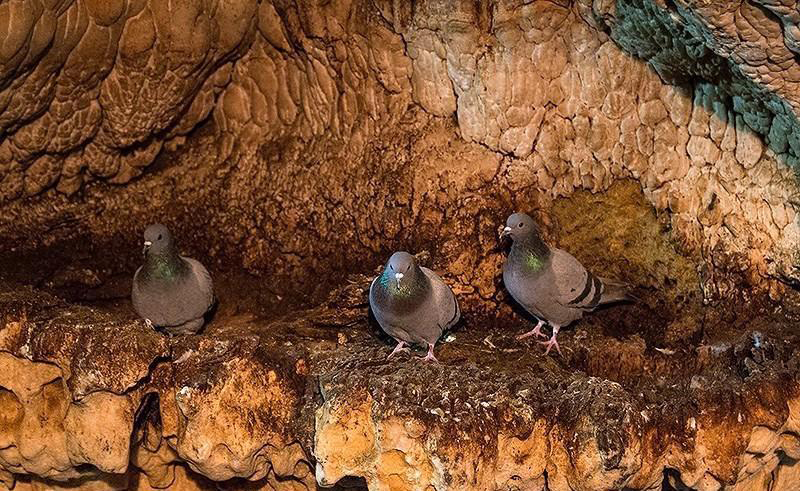 On the walls of this cave, you can see patterns that have been hacked on limestone. Based on what people have deduced from these patterns, each has chosen a name for them that may have nothing to do with the main pattern.
There are two routes to enter this cave, which tourists enter from one of them. The number of steps you see to go down this cave is about 106 steps.
To facilitate access to different parts of the cave, signs have been placed to guide people, which can show you the way.
In order to reach the highest point of Saholan Cave, you have to climb about 170 steps. Along the way, you will see many things, among which we can mention very narrow tunnels. Also pools that can show you beauty. However, when you reach the highest part, you are about 50 meters above the ground.
In order to spend a good night and go to this cave the next morning, the best place for you are the hotels that offer moderate prices but good facilities in Bukan. In addition, those who find the route to Mahabad easier can book a hotel in Mahabad and spend the night there.
People who live in this province go to this beautiful place as one of their weekend pastimes.
How long is it enough to visit this cave?
About 30 minutes to an hour is enough, but about 15 minutes is enough by boat. You can take up to three hours to see this cave better.
What time is this cave open?
Visiting time of this cave is from nine in the morning until about five in the evening. These hours may change in some months.
What is the address of Saholan Cave?
This cave is located between Bukan and Mahabad in West Azerbaijan province. This cave is 42 km away from Mahabad and about 150 km away from Urmia.
Click to rate this post. The left is the lowest score and the right is the highest score.