Bulgur Gandom Halim called Jerish Halim
April 30, 2022

Updated in 30 April 2022
In autumn and winter, one of the delicious foods that can be cooked is Halim or Haleem (Wheat and Meat Porridge), but the method of preparation and taste of some local Halims, such as Jerish Halim in Hormozgan province, is somewhat different from other Halims.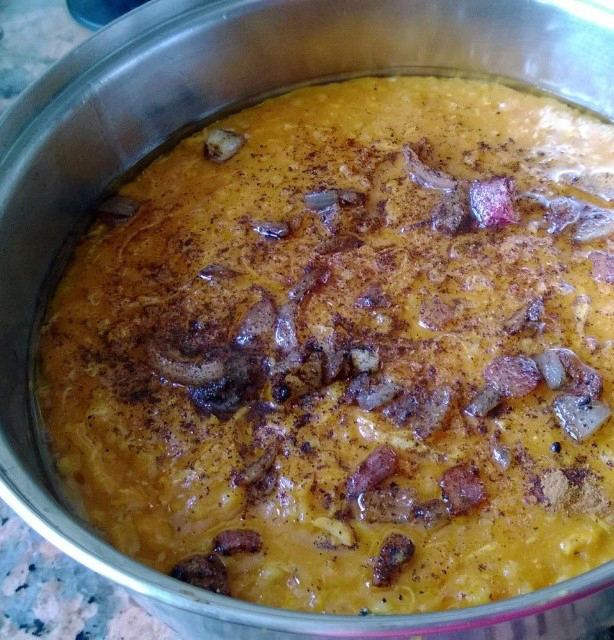 People who suffer from gastrointestinal disorders can eat this food in small portion on a daily basis, they will definitely notice an improvement in the function of their digestive system due to the high fiber in this food.
Ingredients
First, prepare bulgur wheat. If you want to make this Halim for four people, you should use two measures of wheat, but if there are more, you should prepare more wheat.
Then you have to prepare chicken. For four people, half a kilo of boneless chicken is enough, which means the same chicken breast is needed.
It's time for onions. Onions should be finely chopped so that they are not seen in food. One bowl of chopped onion is enough, depending on the type of onion and its size, it can be one or two medium or large onions.
You may be surprised, but in South Haleem Jerish, tomatoes are also commonly used.
Three tomatoes are enough. In addition, since tomatoes can not produce the desired color change, tomato paste is used, which will be enough for three tablespoons.
About a quarter of a cup of oil is needed.
Then you need a little salt, pepper, cumin and turmeric.
You should use a little parsley to change the smell of Halim.
Fry some chopped onions and pour over food.
To get fat, you can use two tablespoons of butter, and also to change the smell and taste of the Halim, you can add little lemon powder. Of course, note that lemon powder should not be added in large quantities in food.
Recipe
Use the following recipe to cook this Halim:
Prepare bulgur
The bulgur wheat that you have prepared should be soaked in water after cleaning so that it comes out of the dry state and their bloating is also taken. In this case, they are easily cooked during cooking. Then pour the bulgur into the strainer to remove excess water.
Combining ingredients
Now it's time for the onions that you have already chopped into small pieces. You can fry them in oil. Be careful not to overcook the onions until golden.
Then add the chopped chicken to the onions. The time required to roast the chickens is about 5 minutes.
Then you can add cumin, pepper and turmeric to this mixture.
In the next step, it is time to add the paste along with the tomatoes.
Cooking bulgur
Take out the bulgur that you have already put in the water and put them in a place where you can flatten them, that is, the bulgur should be crushed. Finally, these bulgur must be cooked in the same condition and to cook them, you need two cups of water. Two hours is enough time to cook them. The heat required for cooking should be gentle.
Mix the cooked ingredients
You do not need to stir constantly at the beginning of cooking. 30 minutes is enough for stirring, but at the end of cooking the Halim , when you are sure that the Halim has reached its concentration stage, continue stirring more. To stir, use a large spoon to reach the bottom of the pot.
Then you have to mix all the ingredients together to become a one-handed combination, that is, pour the chicken and the ingredients together with the bulgur into the blender. Turn on the blender to start stirring and it will give you a one-handed combination.
Decorate
Finally, you can fry the remaining onion in a little butter and add lemon powder to the onion and pour this material in the Jerish Halim. Put some fried onions on the Halim for garnish.
After serving Jerish Haleem, you can put parsley leaves on it.
Click to rate this post. The left is the lowest score and the right is the highest score.