November 25, 2021

Updated in 11 March 2022
Introduction
Doodvazan Waterfall in Shaft city is one of the unique waterfalls in Gilan province that you may not have heard its name before. This waterfall is usually less known because it is located in the forest and has a different path.
To reach Doodvazan waterfall, you have to cross a rural path. The path of this waterfall is paved and has stairs, it is not possible to go with vehicles, so be sure to put on the right shoes and prepare yourself to enter a beautiful tunnel with good weather.
The small but large stairs that exist all the way from Khorramkesh village to reach Doodvazan waterfall bring a little fatigue because you do not need to consume a lot of energy to climb them. So go calm and enjoy the path you are on.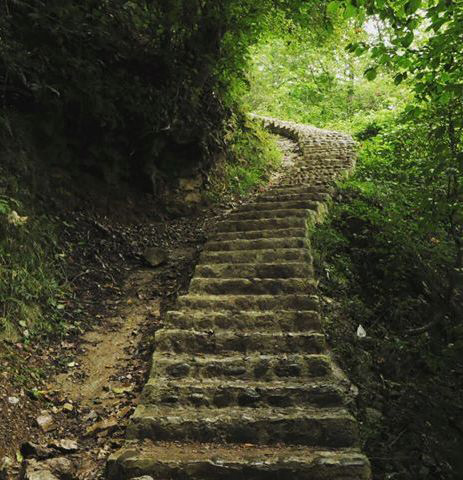 Because the locals know this area well, we suggest you go to this waterfall on normal days of the year. These days you can enjoy a more secluded nature, but on holidays you will encounter crowded areas that usually make it a little harder to see the beauties.
The Doodvazan Shaft waterfall has a tortuous path. Be sure to drive slowly as the possibility of animals on your way is not unexpected. In addition, you can enjoy the attractions of this beautiful route.
The beauties usually come to you one by one when you set foot on the path of Doodvazan Falls. For example, the supply of local products and handicrafts in this region can be considered as an example of them.
One of the best local items in this area is the presence of a cheese called Siahmazgi, and every year a festival is held to unveil this new local cheese.
Along the path of this waterfall, you can enjoy other beauties. This beauty leads to natural wooden stairs, which are usually designed for visitors to cross and allow them to cross the water at high speed. There are a number of wooden stairs, even one of which is near the waterfall and is a good place to take a picture.
Rock Climbing
If you are a rock climber and you can do this professionally, it is better to have your safety equipment with you and go down from the beginning of the waterfall to the end. This fall from a height, of course, in an artistic way can create indescribable excitement that is only an enjoyable experience.
Where is the address of Doodvazan waterfall?
This waterfall is located about 24 km from the shaft in the Khorramkesh area of the shaft.
Click to rate this post. The left is the lowest score and the right is the highest score.