December 7, 2021

Updated in 21 December 2021
To prepare Gerdbij Fish (in the local language of Gilani, Gerdvij Fish) you need to buy a white fish. In Gerdbij fish, like many delicious dishes of Gilan, you need to use fragrant vegetables.
Ingredients
One white fish
Pomegranate paste 2 tbsp
200 grams of chopped walnut kernels
Aromatic vegetables (mint, Khalivash, clover) a complete package
Marjoram with enough salt, pepper and oil
Recipe
Grinding walnuts
Grind walnut kernels and mix with local vegetables.
Cleaning white fish
Then wash the white fish and remove the squama from the skin. Also, trim its fins with scissors. Try to empty the fish gills as well.
Fill the belly of the fish
Now you can stuff the inside of the fish belly with chopped walnut kernels and vegetables. After pouring these materials into it, you can use a yarn and a needle to sew the cut.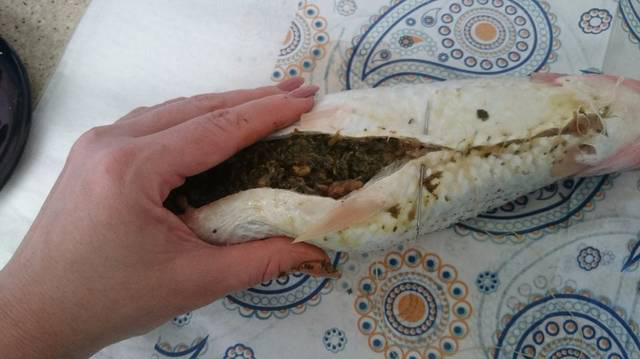 Now prepare a pot in which the fish can be placed.
Add saffron and pomegranate paste
In the last step, you can pour saffron juice and pomegranate juice on Gerdbij Fish to make it colorful and tasty. Adding pomegranate paste to the ingredients inside the fish belly will help make it taste sour.
Cooking fish
To cook fish, you can use charcoal fire on the surface and bottom of the fish. Do this with very gentle heat.
Marjoram can also smell good to fish, so be sure to use it when cooking.
Click to rate this post. The left is the lowest score and the right is the highest score.