Qaem International Hospital in Rasht city
October 29, 2021

Updated in 11 March 2022
Introduction
Qaem International Hospital in Rasht city is one of the newest private hospitals in Gilan province, which has the Canadian ACI standard certificate.
This hospital is equipped with a special space for helicopters so that emergency patients can be sent to this hospital.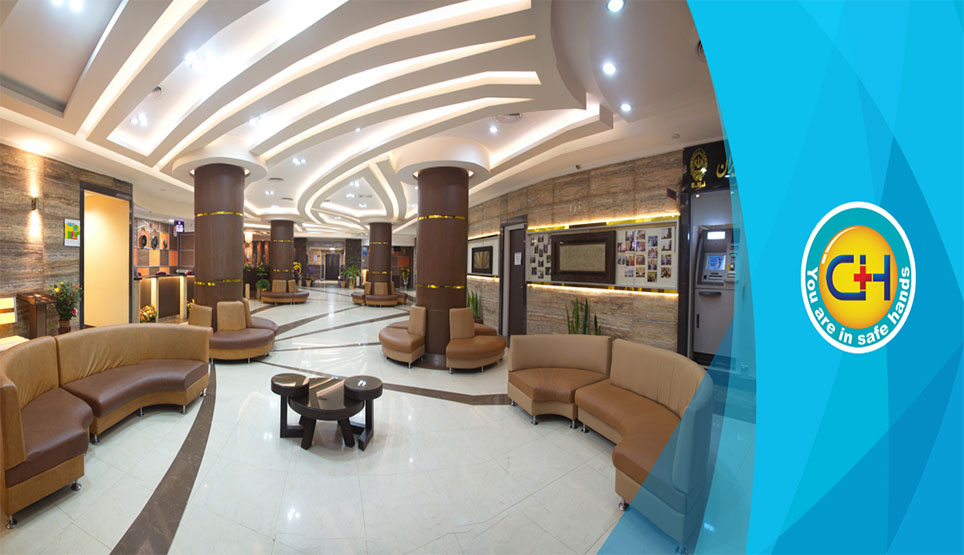 For the well-being of patients, this hospital has concluded cooperation agreements with all basic and supplementary insurance organizations, banks and large organizations.
Modern and beautiful physical space of Qaem International Hospital, use of up-to-date and advanced equipment, presence of renowned and experienced physicians and subspecialists, along with special welfare facilities, this hospital has been introduced as one of the first options for patients to be treated in the country and the region.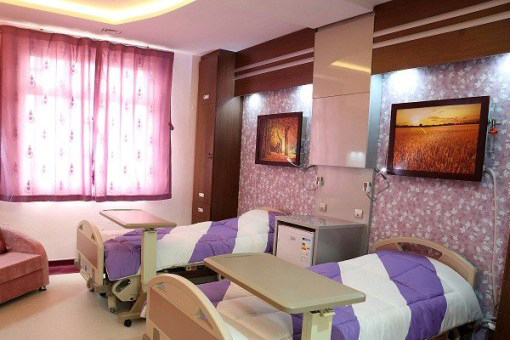 Qaem boarding hospital with experienced staff and sufficient workers has been able to satisfy patients.
All the advantages in this complex have caused the Qaem International Hospital in Rasht to be recognized as one of the top health service providers and in addition to providing health services to the people of Iran, it can provide these services in the form of health tourism complex to patients and clients of other countries.
Qaem International Hospital offers the best quality services in the following fields:
Emergency
If the patient has an outpatient problem and does not need to be hospitalized, all medical procedures are performed for him in the emergency department and then he will be discharged.
At the entrance of the emergency department, there is a poisoning room equipped with cardiopulmonary monitoring system, CPR trolley, central oxygen, central suction and portable.
On the east side of the emergency department is an outpatient operating room with all the necessary operating room equipment, including a bed, sialic lights, and an anesthesia machine, oxygen, and central suction device.

The resuscitation room (CPR) on the right side of the emergency entrance is equipped with two hydrostatic beds, a cardiac and pulmonary monitoring device, a portable ventilator, an infusion pump and a CPR trolley. In case of heart failure, the patient is immediately transferred to this room and treated.
The emergency department is fully equipped with cardiopulmonary monitoring system, central suction and central oxygen.
There is also an emergency trolley and an ECG device. The emergency room is also equipped with a PTS system for rapid transfer of blood samples, tests and emergency medications.
The emergency department of Qaem International Hospital has 24 hours and three full shifts of resident physicians, and the resident physician's room is also located inside the ward. The experienced nurses in this department have several years of experience working in the emergency department and are completely proficient in the affairs of emergency patients.
Paraclinical Department in Qaem International Hospital
The Paraclinical ward of Qaem International Hospital includes the following:
Imaging
Devices and services of Qaem International Hospital Medical Imaging Center:
MRI 1.5 Tesla 18-channel Avanto Siemens, the most advanced device in the whole province of Gilan
Siemens 16 slice CT scan for the first time in Gilan province
Siemens Digital Radiology
Interventional radiology
Siemens and GE ultrasounds
Panorex and VATECH digital OPG
HOLUGIC digital mammography
Stereotactic device for breast biopsy for the first time in Gilan province
High accuracy in:
Accurate diagnosis (aneurysm, malformation, dissection and other cases of vascular malformations) by CT angiography
Detection of intestinal abnormalities (polyps, diverticula, etc.) with VIRTUAL COLONOSCOPY protocol
Bronchoscopy
High accuracy and speed in performing other routine scans with or without contrast

High speed in:
Significant reduction in the amount of medication and radiation to the patient
Ability to provide high-quality rapid imaging of children and restless patients, without anesthesia
Specific protocols:
Specific biopsy protocol that leads to greater accuracy and speed of operation in sampling
Specific protocol for radiotherapy planning (marking and planning)
NEROU DSA proprietary protocol for cerebrovascular reconstruction
Dyna Evaluation specific protocol for examining body tissue perfusion
Oncology protocol to diagnose and follow the treatment process
Laboratory
Qaem International Hospital Laboratory, in line with technology and with the most advanced laboratory facilities and equipment, provides diagnostic services to all outpatients and inpatients 24 hours a day. All stages of the tests are monitored using quality control methods in collaboration with reputable European and academic centers.

In this laboratory, the departments of biochemistry, hematology, hormoneology, microbiology and pathology are open 24 hours a day, and the hospital blood bank provides support in open-heart surgery and emergency rooms.
Qaem International Hospital Laboratory is directly connected to all wards of the hospital and operating room through the PTS system air ducts and acts as a central station. This system, as a receiver and transmitter of tests, quickly and within a few seconds receives samples of tests from all departments and sends the answers to the department through the same channel, without wasting time and without the involvement of human resources.
Physiotherapy
This ward has several beds and mechanotherapy rooms that use the best and most advanced equipment and have a specialized and experienced staff to provide rehabilitation services to outpatients and patients admitted to the wards in two shifts in the morning and evening.

The activities of the physiotherapy unit are:
In general, in the physiotherapy department, services are performed on an outpatient basis as well as for hospitalized patients. Patients with all types of muscle weakness, muscle and tendon dysfunction, surgery, osteoarthritis, joint pain, neck and back pain, knee and elbow pain, and after fractures are referred and treated on an outpatient basis.
For inpatient physiotherapy, treatment is performed at the patient's bedside. This type of physiotherapy mainly includes respiratory physiotherapy and exercise of the limbs and its purpose is to prevent lung infection, increase capacity and improve respiratory function and help expel sputum, prevent joint dryness and improve joint range of motion.
Physiotherapy at Qaem International Hospital includes the following sections:
Laser
Electrotherapy
Electromagnetic therapy
Exercise therapy (mechanotherapy)
The devices used are:
Infrared radiation, use of hot bag (hot pack), use of ultrasound waves, use of diameter waves, use of galvanic current, faradic and high frequency currents, Tens, HU, UV rays, use of massager or vibrator.
Exercise therapy (mechanotherapy):
In exercise therapy, due to the fact that the patient's problem is limited mobility, shortness or weakness and muscle weakness, the therapeutic techniques that are used are: Mobilization, Hold relax and isometric exercises, resistance exercises using the equipment available in the section including springs, pulleys, weights, quadriceps, parallels, stationary bikes, shoulder wheels, shoulder ladders and mechanical traction.
Endoscopy
In the endoscopy department, services such as endoscopy (gatroscopy), colonoscopy, polypectomy, gastric ballooning, PEG implantation (in patients for whom oral feeding and NGT are not possible), removal of the foreign body and achalasia ballooning and bandaging procedures and stent placement are performed for patients by gastroenterologists.
In this section, high-quality Olympus and Fujinon endoscopic and colonoscopic devices (which have the NBI system) have the ability to detect cancerous tissue in the very early stages, which cannot be detected with conventional endoscopic devices.
This device was used for the first time in the north of the country in Qaem International Hospital and causes early detection of cancerous tissues in the early stages. Given that gastrointestinal cancers are one of the most common cancers, especially in men, early detection in endoscopy and in the clinic can be of great help to increase the life of people.
Echo
The non-invasive heart ward at Qaem International Hospital is performed every morning except holidays to prepare for check-ups and check the cardiovascular function of patients, evaluation of cardiac arrhythmias and excessive heart rate fluctuations and any abnormalities in heart rhythm function and control and regulation of blood pressure and regulation of drugs through visits and echocardiography (exercise test), blood pressure holter and heart rhythm holter and syncope diagnosis test (tilt) by modern and advanced devices.
Eco cardiography:
It is a safe and painless method of examining and observing the structure of the heart by sound waves. The doctor places a small prop on the chest and the image of the moving heart and blood flow is displayed in color on the monitor at the same time. In this method, the thickness of the muscle, the size of the cavities, the shape and function of the valve, and the way blood is reported inside the heart are examined and measured, and this method is painless.
Fitness test:
One of the most important studies is cardiovascular disease. Muscles need more blood flow during exercise, so the heart has to beat faster and harder, so the heart is more active than any other part of the body during exercise and needs more blood.
The arteries of a healthy heart can meet this increased need, but if the arteries are narrowed, they cannot work and suffer from hypoxia and subsequent pain, which manifests itself in changes in the ECG (blood pressure and heart rate).
Tilt test:
It is used to evaluate syncope attacks caused by hypotension and heart rate. There is no need to hospitalize the person. Syncope is the temporary loss of consciousness and balance and its spontaneous return without medical or electrical intervention.
In this method, the person lies on a bed equipped with a belt and safety equipment and electrodes are attached to the patient to monitor the ECG and sphygmomanometer. After 15 minutes of rest, give the bed a 70-degree angle and the person will stand on the bed for 20 minutes without moving. If syncope occurs, the bed is quickly restored to a supine position and the patient is immediately awakened and given intravenous and oral fluids.
Heart rhythm holter:
Sometimes arrhythmias and abnormal beats are not seen during the visit,a device called a holter is used, which according to the doctor's diagnosis can be daily, weekly or monthly, and all arrhythmias and beats are recorded and by reading the information inside it, the type of arrhythmia is realized.
In this method, the patient has his own rest, rest and daily life during activity. This method is used for people who have heart problems for a few moments and minutes and do not have obvious problems at other times.
Blood pressure Holter:
It is a small, modern, computer-programmed sphygmomanometer that measures a patient's blood pressure and heart rate at regular intervals as he or she performs his or her daily activities.
This device is used for the people who are stressed when they go to the doctor and medical centers and their blood pressure rises falsely, or to evaluate drug-resistant blood pressure, to evaluate the effect of antihypertensive drugs and to decide to start the drug and to ensure the effectiveness of the drug and blood pressure fluctuations during the day, to monitor blood pressure and pulse during daily activities.
Angiography and Angioplasty
The angiography department is equipped with the most advanced angiography device in the world from the German company Siemens, and all services related to this department are performed by specialized doctors.

Some of the diagnostic and treatment services provided in the angiography department of Qaem International Hospital for citizens and clients are as follows:
Angiography of all arteries of the heart
Coronary angioplasty
Renal artery angioplasty
Carotid artery angiography and angioplasty
Angiography and catheterization and IABP (balloon pump)
Abdominal aortic angiography
Valvuloplasty of heart valves
Temporary and permanent pacemaker installation
With the presence of physicians and specialists, Intervention and EP complex and sometimes rare services such as closing the left ventricular fistula with coil and closing VSD and implantation of ICD and ablation types as well as CRT are performed in this department.
Crusher
Using advanced crushers and doctors specializing in this department, crusher services are provided to patients in the best way.

Radiotherapy and Brachytherapy
Radiotherapy or radiation therapy is one of the most effective and efficient methods in the treatment of cancer and can be done as a main or adjunctive treatment. Determining and choosing the type of radiotherapy is the responsibility of the specialist physician and the decision about it will be based on factors such as pathology report and surgeon report and the extent of disease spread and…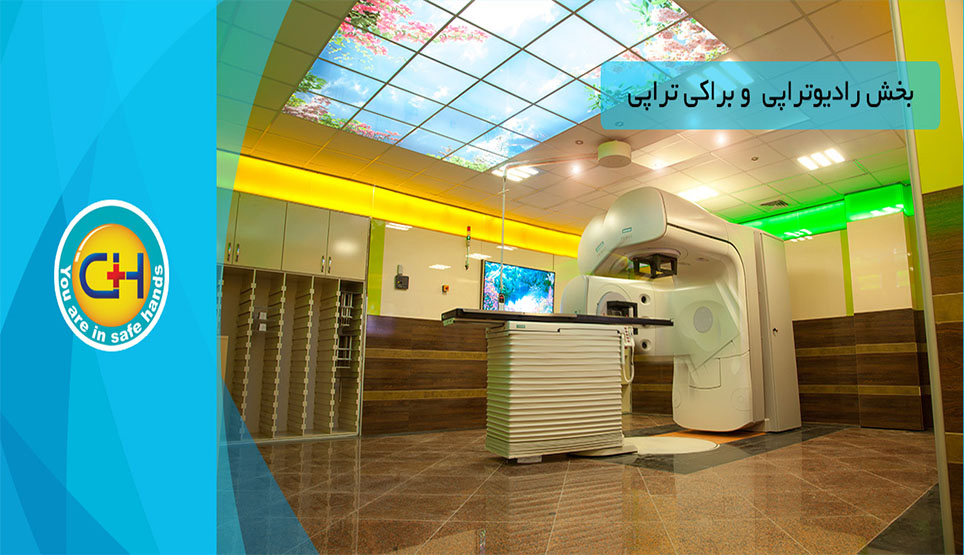 Radiotherapy is performed in the form of external radiotherapy and brachytherapy. In both methods, ionizing radiation is used to irradiate and destroy cancer cells. The main difference between the two methods is the location of the radiation source. In the external type, the source of radiation is outside the body, but in the type of brachytherapy, the source of radiation enters the patient's body and radiation is done from inside the body.
LASIK
The most common vision disorders include myopia, hyperopia, astigmatism, and presbyopia, which is called refractive error. Conventional treatments in recent years have included prescription glasses and contact lenses. With the advancement of ophthalmology, other methods such as laser refractive surgery of the cornea with excimer laser (LASIK, PRK, and LASEK) and intraocular lens implantation were added to refractive errors treatment methods.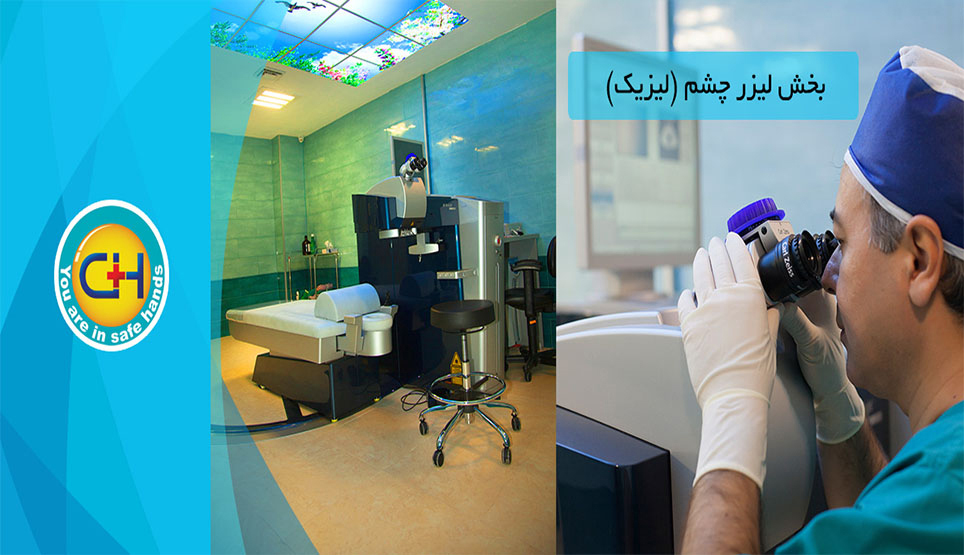 The management and ophthalmology department of Qaem International Hospital, in order to equip the ophthalmology ward, identified the best excimer devices in the world and selected the best device that guarantees the health of patients in order to provide better services using the expert opinion of the center's ophthalmologists.
Alkan's latest American LASIK device called EX500 (new and advanced generation of Algerto device) was purchased and installed in the hospital's laser section.
This device has the most important approval of the world (FDA) to correct the refractive error of patients (removing glasses) and is one of the fastest excimer devices in the world, so that with an excellent speed of 500 Hz, it can correct 5 points of glasses in just 7 seconds.
Inpatient wards
The inpatient wards of Qaem International Hospital include obstetrics and gynecology, general surgery, pediatrics, internal medicine, obstetrics, dialysis, chemotherapy, and CCU.
Special sections
ICU
The ICU-G ward of Qaem International Hospital, as one of the largest and most equipped intensive care units in northern Iran, with more than sixteen beds, is equipped with the latest advanced equipment. In this ward, patients are admitted whose survival or treatment and life requires very careful care along with the necessary support devices.

In each unit of this section, there is a ventilator with the latest method in the world. Cardiac monitoring inside each unit is ordered by this hospital and is installed with the highest necessary standards, and the infusion pump is provided in sufficient numbers to perform accurate drug treatment in each unit.
The ICU-G ward of Qaem International Hospital has an isolated room for patients with infectious diseases along with a scrub room. One of the most valuable items is the presence of an anesthesiologist living in the ward, which prevents wastage of time in emergencies. In this section, it is possible to bathe the patient with a stretcher.
The presence of a PTS system for the rapid transfer of patient specimens as well as the transport of specific drugs is a feature of this ward that will help speed up time.
Another important point in this ward is the presence of a dialysis machine (CRRT), which allows patients in critical condition in the ICU-G ward who need dialysis, but with their clinical condition, transfer to the dialysis ward is not possible for them, to be dialyzed for 24 hours by a dialysis machine in the same section.
All the beds in this section are equipped with modern wavy mattresses to prevent bedsores. In this section, the personnel have undergone special courses for prevention and treatment of bedsores. In addition, for accurate control of all patients, monitors and control cameras have been installed in all necessary places.
Around this ward, a special corridor for observing the patient has been considered for visiting companions. An ICU-G physician also manages the coordination of patients' treatment process properly.
ICU OH
The Intensive Care Unit of Open-Heart Surgery in Qaem International Hospital, by using experienced medical and nursing staff and using modern equipment, seeks to provide appropriate services to provide a calm and safe environment for patients.

Open-heart surgery intensive care unit equipped with fully automatic and advanced boards, roof columns equipped with Drager Germany, with the most equipped monitoring, and with all the necessary facilities for patients after heart surgery, like the most equipped monitoring and with all the necessary facilities for patients after heart surgery, such as evita4 drag ventilator and balloon pump inside the ventilator which has minimized the risks after heart surgery.
This section is equipped with advanced PTS and HIS system. Patients undergoing open heart surgery are immediately transferred to the ICU-OH at the shortest distance (less than 10 meters from the operating room) and connected to ventilators and are admitted to an open heart intensive care unit for 24 to 48 hours. These patients were transferred to the open-heart surgery ward after cardiovascular stability and approval of an open-heart surgeon and anesthesiologist.
The types of surgeries performed in this center are:
One of the tasks of this department is to care for patients after open-heart surgery, which includes patients with coronary artery bypass grafting, valve replacement, valve repair, aortic aneurysm and other heart surgeries. This section also has special protocols for sedation of patients under mechanical ventilation, which make patients more relaxed.
This department has protocols for treating many underlying problems of patients, Such as blood glucose control protocol, heparin therapy, control of infections caused by mechanical ventilation, separation from mechanical ventilation, warfarin therapy, etc., which is in line with valid scientific sources and plays an important role in faster recovery and reducing morbidity of patients.
NICU
The NICU (Neonatal Intensive Care Unit) has more than seven resuscitation beds, four incubators, one phototherapy incubator, one rotating phototherapy, five portable four-lamp phototherapy, four ventilators and three NCPAPs.

All boards are equipped with monitoring, suction and central oxygen. Utilizing the best equipment in the world, employing trained personnel and using surfactant medicine, have calmed the clients' minds and the hope of keeping healthy children, some of whom are born prematurely, has increased, especially among parents who have dreamed of having children for years.
The presence of experienced physicians in the field of neonatal intensive care for acute respiratory problems has improved the quality of these services.
The NICU ward at Qaem International Hospital is one of the hospital's honors in bringing a baby weighing less than 500 grams to life, and the baby is now alive.
CCU
The CCU (Cardiac Intensive Care Unit) is one of the most advanced wards of Qaem International Hospital, with more than fifteen beds for patients with heart problems, including myocardial infarction, hypertension, angina and patients before and after open heart surgery (transferred from ICU) to control cardiac arrhythmias and dynamic problems.

CCU doctors are graduates of the most prestigious universities in Iran and Europe. The nursing staff is also highly professional and has up-to-date information on cardiac care.
The nursing station in the CCU is equipped with all the facilities and equipment in the middle of the ward, which has full supervision over all the units, and the last units are equipped with CCTV cameras.
Inside each unit, three-breaker electrostatic beds with special generator motor and GMS infusion pump device, as well as the most advanced monitoring in the world for patients' heart monitors are used which is connected to the central monitor in the nursing station as a network, and all patient information such as ECG status, blood pressure and percentage of arterial oxygen saturation and… is monitored with this system, which can be recovered if needed.
The CCU is equipped with a PTS machine to quickly send and receive tests, medications, and a Pacs machine to receive remote radiology information for physicians, which is very important for heart patients.
This ward has a resident doctor's room and is equipped with all facilities and equipment. The CCU ward of Qaem International Hospital has a CCTV camera with which the patient's companions can be informed about their patient's condition through a television that is installed outside the ward.
Surgery rooms
The operating room at Qaem International Hospital has eight rooms equipped for all specialized and sub-specialized surgeries of eye, ear, nose and throat, gynecological surgery, general surgery, open-heart surgery, plastic and liposuction surgeries, orthopedics, urology and more.
Each operating room is equipped with fully automatic beds, advanced equipment and advanced anesthesia and monitoring machines mounted on ceiling columns (German company Drager). In addition, there are no wires or cables on the ground and it has the ability to move around the patient to facilitate the procedures and prevent the transmission of infection.
The operating rooms at Qaem International Hospital have all the necessary and modern equipment, such as various specialized microscopes for neurosurgery, ENT, eye and fico surgery, as well as arthroscopy.
The operating room is equipped with an advanced laparoscopic system (Olympus) with an integrated system and performs all endoscopic gynecological surgeries and surgeries such as hysterectomy, myomectomy, cystectomy and removal of adhesions and congenital disorders, gallbladder surgeries and bypass for slimming.
CPB heart pump for open-heart surgery has saved the lives of many patients with clogged arteries. The advanced urology device is also used to perform all urological surgeries.
Sialic lights (cold light lights) in the operating room are equipped with video cameras and can display surgery videos in the amphitheater or other parts of the hospital.
The operating rooms are equipped with a PTS system for fast and safe transfer of samples to the laboratory and transfer of drugs from the pharmacy.
The operating room is equipped with HIS system and office automation is fully implemented in this system. Qaem International Hospital operating room complex has a preoperative preparation room, physician's rest room, resident anesthesia doctor room, large recovery with ten fully automatic stretchers equipped with monitoring system to check vital signs and respiratory gases to minimize risk.
The doctors' locker room has a separate corridor to the north of the operating room and the nurses' locker room to the south of the operating room with a separate entrance. Patients who have undergone CABG surgery are transported directly through the corridor to ICU-OH, which is located next to the heart surgery room.
By installing a monitor behind the door of the operating room, all the patient's companions are placed in the full process of starting the surgery, the time of the end of the surgery, entering the recovery and their patients' ward, and this calms their mind.
Polyclinic unit
The polyclinic unit of Qaem International Hospital, using the best and most advanced equipment and having a specialized medical staff, offers various medical and diagnostic services in two shifts in the morning and evening (except holidays) to esteemed outpatients.
The services of the polyclinic unit are as follows:
Skin and beauty services, urology, gynecology, pediatrics, pain, infectious, ENT, lung, internal, eye, psychology, orthopedics, speech therapy, laryngeal imaging, radiotherapy and oncology, General surgery, maxillofacial surgery, gastrointestinal, neurology, checkup, obesity and…
What is the telephone number of Qaem Hospital?
013-3409 and 013-33565011
Where is the address of Qaem international hospital?
Eftekhari rd, Rasht city.
Click to rate this post. The left is the lowest score and the right is the highest score.