October 24, 2021

Updated in 24 October 2021
Shesh Andaz stew is one of the delicious foods of Gilan province. This food is very easy and is prepared with few ingredients.
Shesh Andaz stew becomes ready quickly. Therefore, when you have little time for cooking, cooking this stew is the most suitable food for you.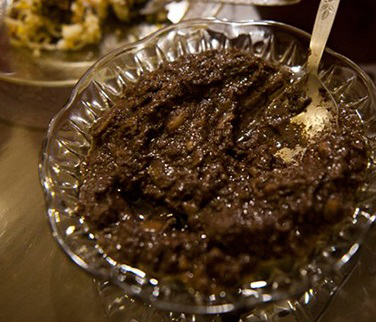 Ingredients for Shesh Andaz stew
Eggplants 4 to 5
Saffron one third of a measure
Walnut 200 to 300 grams
Pomegranate paste 2 to 3 tablespoons
Grated onion 1 to 2 medium
Grated garlic 1 tablespoon
Salt, pepper, turmeric and oil as needed
How to prepare this Shesh Andaz stew
Cooking eggplant
First, pour the oil in the frying pan and leave it to heat well. Then we put the already chopped eggplants in this oil.
Roast onions and walnuts
In the next step, we need in two separate containers in order to fry the onion in one of them and the ground walnut in the other with a little oil. Note that walnut should not be roasted for too long, as the original taste will be lost.
Roasting garlic
Next, we have to add garlic to the fried onions and pour them into walnuts and oil so that they taste good.
Add pomegranate paste and spices
Now we need to add about 1 to 2 tablespoons of pomegranate paste to this mixture. When it thickens a little, pour about 1 to 2 glasses of warm water into it and put it on a gentle flame to evaporate the excess water of the stew and increase its density.
Then add salt, turmeric and pepper.
Cooking stew
Finally add the fried eggplants and a tablespoon of saffron. After 5 to 10 minutes when well heated, the food is set and ready to serve.
You can use pickles and local vegetables along with the Shesh Andaz stew.
Click to rate this post. The left is the lowest score and the right is the highest score.