October 23, 2021

Updated in 23 October 2021
Sirabij stew (in the local language of Gilani Sirvavij) is a stew that is very tasty and pleasant.
This stew is cooked a lot when fresh garlic leaves are available in the local markets of Gilan, because fresh garlic leaves are limited to the autumn season and can be found in the market for a few months, but will no longer exist after that. So if you like, to cook this delicious food all year round, it is better to chop the garlic cloves in the fall and put them in the freezer.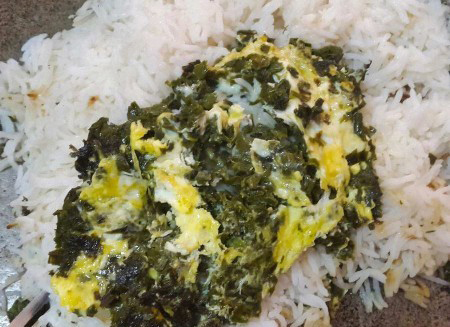 Sirabij stew is very simple and delicious at the same time. It is prepared in a short time and at a low cost and is to the taste of many people.
Ingredients for Sirabij stew
Fresh garlic leaves three batch
Three eggs
Salt, pepper, turmeric and liquid oil as needed
How to prepare Sirabij
Prepare vegetables
First, you have to wash the garlic leaves well and remove the mud in them. Then chop them into small pieces with a knife. Of course, you should keep in mind that some of the old women of Gilan used to prepare this stew when the Gija vegetable is in the market. Gija is the name of one of the local vegetables in Gilan province, which is also called Gijavash. It seems that the combination of garlic leaves with Gija will give a unique and different taste to the food.
Cook garlic
Then pour the garlic leaves into the pan and fry in oil. Note that garlic should not be too red and black because their taste changes and becomes bitter.
Boil the eggs
Then it is time to add the eggs. When pouring the eggs over the garlic, do not stir too much as the texture and consistency of the egg will be lost and the appearance of the Sirabij will change. It takes a while for the eggs to cook and this food will be served to guests with its unique smell.
In addition to Sirabij and rice, you can use a bowl of yogurt, Kooli Shur as well as local white peat to decorate your meal.
Click to rate this post. The left is the lowest score and the right is the highest score.