November 13, 2021

Updated in 13 November 2021
Anar bij Stew or Pomegranate Walnut Stew is similar to Fesenjan stew, which differs from it only in some ingredients. Anar bij is also called Fesenjan Gilani.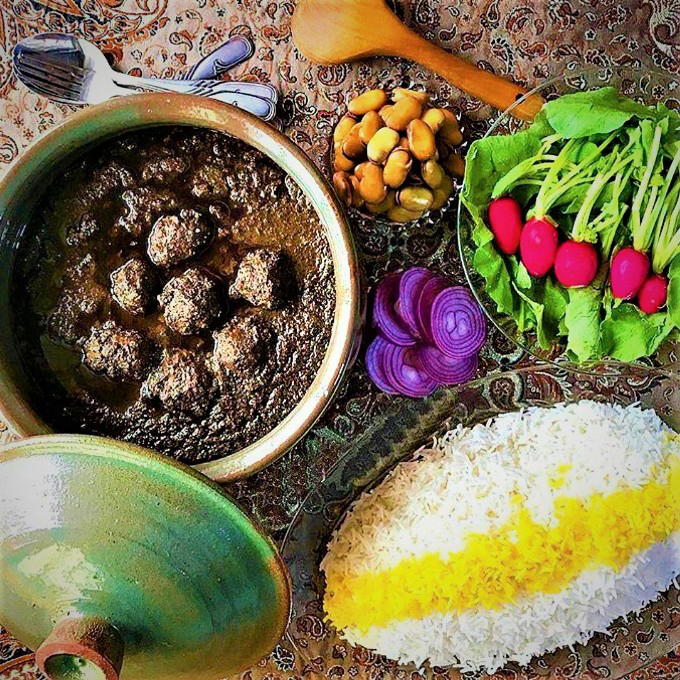 Ingredients for Anar bij stew
These raw materials are for 4 people.
Two onions.
Walnuts about 200 grams.
Minced meat in a pan 400 grams.
Aromatic vegetables including parsley, coriander, cloves, mint and khalvash about half a kilogram of chopped.
Salt, pepper, turmeric and pomegranate paste as needed.
Anar bij Recipe
Follow this recipe to make this stew:
Prepare the meat
First you have to prepare the meat. The meat should be minced, which should be slightly twisted in the pan with the fragrant vegetables such as mint and grated onion so that it does not separate inside the stew. Then chop the remaining vegetables well.
Prepare walnuts
Then chop the walnuts that you have considered for this purpose. It is better for walnuts to be suitable for stew so that they have good oil for your food. If your walnut is of a type that does not produce much oil, you can use several strategies to increase the oil. First, fry the walnuts a little before adding them, and you can also use ice cubes inside the food while cooking.
Remember that walnut kernels must be thoroughly ground.
Add pomegranate paste and turmeric
Now it is time to add pomegranate paste and turmeric to the crushed walnut kernels. Pour a little water on the ingredients and put it in a pot. Do not pour too much water because it will be very difficult to reduce the stew water.
Add the meat
When your walnuts are boiling and good oil is visible on the stew, it will be time to add the stir-fried meats.
Fragrance of stew
You can also use fragrant vegetables about half an hour before turning off the stew to make your Anar bij stew fragrant and delicious. This time is very good for preserving the properties of vegetables.
Click to rate this post. The left is the lowest score and the right is the highest score.