Faloodeh is a traditional Iranian cold dessert
October 5, 2021

Updated in 13 July 2022
Introduction
One of the things that can attract the attention of tourists to a city or a specific region is traditional food. Faloodeh is also considered as one of the special foods that attracts the attention of many Iranian and foreign tourists.
Travelers and tourists who travel to Shiraz city, especially in hot seasons, are interested in trying this cool and traditional food of Shiraz city, which is very similar to ice cream. Even because Faloodeh is a popular food, it is also served as a dessert in many hotels and traditional restaurants.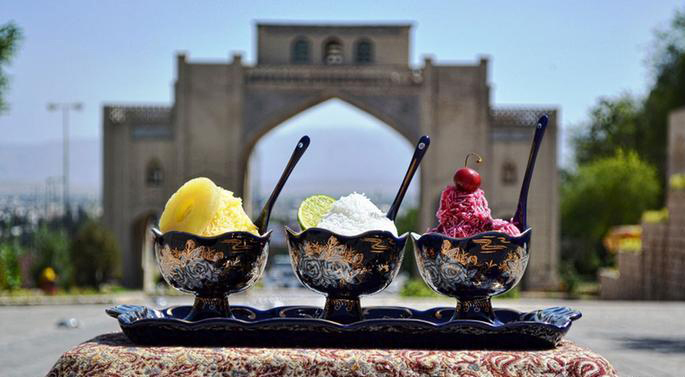 Faloodeh or Paludeh is one of the tasty Iranian desserts. Faloodeh is a kind of cold dessert made by placing thin vermicelli noodles made from corn starch in a semi-frozen syrup made from sugar and rose water.
In different regions of Iran, it is sometimes prepared in similar ways and sometimes with some differences.
It has different flavors such as saffron, sour cherry, blackberry and cocoa, but the most commons are simple and cherry flavor. Sometimes it is tasted with ice cream.
Shirazi faloodeh
Faloodeh is originally from Shiraz and it is usually tasted with lemon juice, rosewater, essences such as Nastaran or cherry syrup.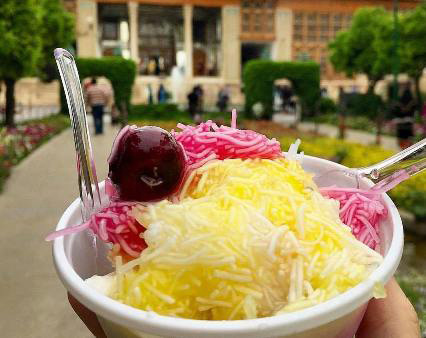 Ingredients for Shirazi faloodeh
Farina 300g
Sugar one glass
Water four glasses
Rosewater One-fourth glass
Sour lemon one
Lemon juice or cherry syrup or rosewater or any kind of syrup to the desired amount
Preparation Shirazi faloodeh
To make it, you must follow the following steps:
Make syrup
First, pour water and sugar into the pot and put it on a gentle heat to boil. Then add the sugar little by little to the water and stir with a spoon until the sugar dissolves in the water. When the sugar dissolves in the water, do not stir it anymore. Wait a little while for the syrup to thicken.
Add rosewater
Add rosewater to the syrup and stir a little. After 5 minutes, turn off the flame, pour the syrup into a metal bowl, and wait a while for the syrup to cool. Then put it in the freezer for 4 to 5 hours to freeze. After the syrup has frozen, take it out, mix it with a fork, and return it to the freezer.
Add farina
Pour two glasses of water into the pot and put it on a gentle heat.
Add the farina to the water and stir until it solidifies and forms a paste. Then wait a while for the water to evaporate and the farina to thicken. In this case, the starch should be slightly stretched.
Make noodle
Now take a bowl and put pieces of ice in it. Then place a colander on the bowl. You can use a pipette instead of a colander.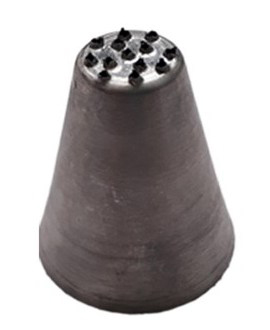 While the dough is hot, pour it into the colander and press it with a spoon until the dough passes through the colander holes and falls on the ice cubes. Then turn the noodles upside down with a spoon so that they do not tightened fully.
Add farina to the syrup
Now take the syrup that you put in the freezer out of the freezer and pour it in the bowl. Pour the farina noodles into this bowl and mix well with the syrup.
Now your Faloodeh is ready and you can taste it with lemon juice, cherry syrup, rosewater or any flavor you like.
Kermani Faloodeh
The use of mint syrup when preparing Kermani Faloodeh makes its taste slightly different from other traditional Faloodeh.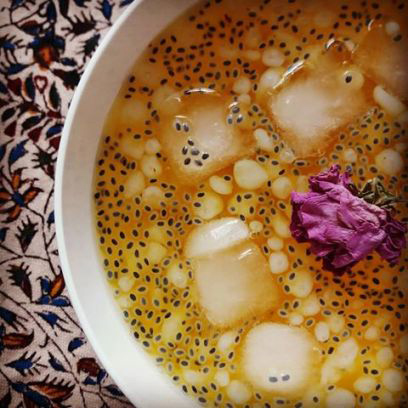 Ingredients for Kermani Faloodeh
Hot water as needed
Cold water as needed
Crushed ice as needed
Starch
Sugar
Mint syrup
Musk willow syrup
Rosewater
Yazdi Faloodeh
Faloode Yazdi, which is also known by the traditional name of Maqutek in Yazd province, is a cool drink and tourists are interested in trying it. In addition, people who have tried Faloodeh Shirazi and Kermani, tend to try this delicious traditional food of Yazd city as well.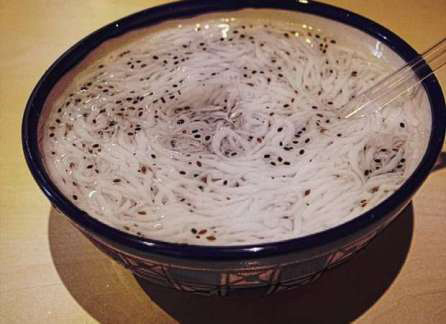 The way to prepare Faloodeh is not much different from each other, and it can be said that they differ only in the use of flavoring ingredients.
The difference between Yazdi Faloodeh and Shirazi and Kermani is that chia (Ocimum album L) is added to its raw ingredients, and it is a little thinner than other kinds of Faloodeh.
Ingredients for Yazdi Faloodeh
Hot water as needed
Cold water as needed
Crushed ice as needed
Starch
Sugar
Rosewater
Chia (Ocimum album L)
Click to rate this post. The left is the lowest score and the right is the highest score.