March 10, 2022

Updated in 10 March 2022
Shami usually have different recipes in each city of Iran. This time we want to introduce you to how to prepare Babylonian Shami to be acquainted with the method of preparing this Mazandaran dinner.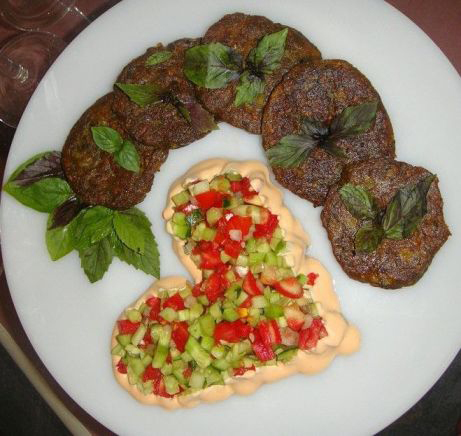 The presence of a variety of vegetables in this food can give a good taste to Shami but the main flavor of Babylonian Shami is related to the vegetables that are found in the mountains of this region, which are called Anarijeh and zalang in the local language.
Ingredients
About 250 grams of meat is enough.
In the next step, you need half a glass of cotyledon. It is better to soak the cotyledons in water for a few hours.
Then chop an onion.
Two potatoes.
Three eggs.
One walnut.
Chop four cloves of garlic.
Vegetables that you should use in Babylonian shami include parsley, coriander, fenugreek, leeks and about a tablespoon of mint.
Recipe
Use the following recipe to cook this Shami:
Cooking the cobs and potatoes
In order to be able to prepare Babylonian shami, you must first cook all the ingredients separately. First you can put the potatoes, then put the soaked cotyledon on the flame to cook well.
Cooking meat
Then take the meat. Mix a little water with spices including turmeric, pepper, cinnamon and onion and place on the flame to cook the mixture well. Allow the water you added to the meat to evaporate completely.
Grinding ingredients
Now it is time to grind or stir the crushed ingredients thoroughly, including cooked potatoes, meat, cotyledon, and add walnuts, garlic, and vegetables. Mix these ingredients together and mash thoroughly.
Then add a little salt and pepper.
Cooking ingredients
Now pour a little oil into the pan and let it warm up a bit. Then cut the ingredients into circles, spread them on the pan and let them fry completely.
You can open the middle of the shami in a ring so that the heat reaches all parts.
Click to rate this post. The left is the lowest score and the right is the highest score.