Visadar waterfall and Mazoposht Village
November 10, 2021

Updated in 10 November 2021
Introduction
In this article, we intend to travel to the village of Mazoposht and Visadar waterfall, which are in the Parehsar section of Rezvanshahr city in Gilan province. The beautiful village of Mazoposht in the heart of its dense forests, has a unique waterfall called Visadar waterfall.
Before reaching the Parehsar road, as you travel from Rasht to Astara, you will encounter a very beautiful road that is covered on both sides by towering pine trees.
Parehsar is one of the northern parts of Gilan province, which is located on the west coast of the Caspian Sea and on the way from Anzali port to Astara. The name of this city consists of two names, Pareh and Sar, which Pareh means fishing and Sar as a link of place. So, in general, it is a place where fishing thrives.
When you enter the Parehsar city, you will surely reach a square where a beautiful fountain has been built. In fact, this route is the same route as Mazoposht village and finally this waterfall also represents the same Visadar waterfall.
Mazoposht village
This village is a very beautiful and mountainous village, but why is the name of this village called Mazoposht? The reason for this naming is the hill that is located in this village and on it grew trees called Mazo. Posht in the local language is also called hill.
If you walk in the village and ask the villagers to show you these trees, there are certainly many trees in the same path that are called mazo. The trunks of these trees are large in diameter and reach over 100 years of age.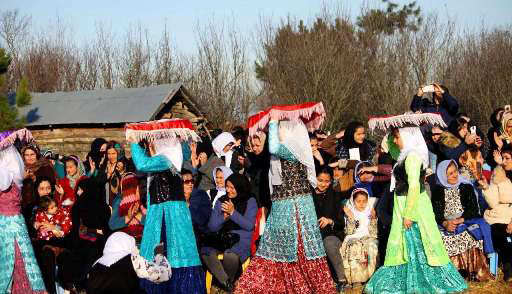 Because some people in this village are engaged in animal husbandry, others in agriculture and beekeeping, as well as gardening, whenever you visit there, you can enjoy local and fresh milk and yogurt, natural honey, freshly caught fish and also kiwi and freshly picked local vegetables.
Only a few people in this village are breeding buffaloes based on the favorable weather conditions there, so if you are looking for buffalo milk, you can get it from this village.
The village has a local pastry called Tabestaneh, which is similar to Kuee Kaka sweets, one of the most famous sweets in the province.
Mazoposht village is about 12 km away from Visadar waterfall, which is a good village for travelers who like to spend the night there in the morning.
Visadar Waterfall
Visadar waterfall is one of the most beautiful waterfalls in Iran and the third highest waterfall in Gilan. This waterfall is located 16 km from the city of Parehsar. This waterfall looks like a jewel in the heart of the forests of this region, namely Mazoposht.
Visadar means the shade of a willow tree. Of course, you will reach this grandeur when you look at this beautiful waterfall from top to bottom.
Where is the address of Visadar waterfall?
Rezvanshahr city, 16 km from Parehsar city, Ardeh summer village, near a village called Avoyar.
Click to rate this post. The left is the lowest score and the right is the highest score.